Home health care includes a wide range of in-home services that an individual may receive due to an illness, injury, or simply just with aging. Home health care services may include: hourly or live-in home health aide services, Alzheimer's care, Parkinson's care, long or short term care, hospice services, and more. When searching for home health care, it is important to trust the services you are using. Check out our list of interview questions to ask before hiring a home care service.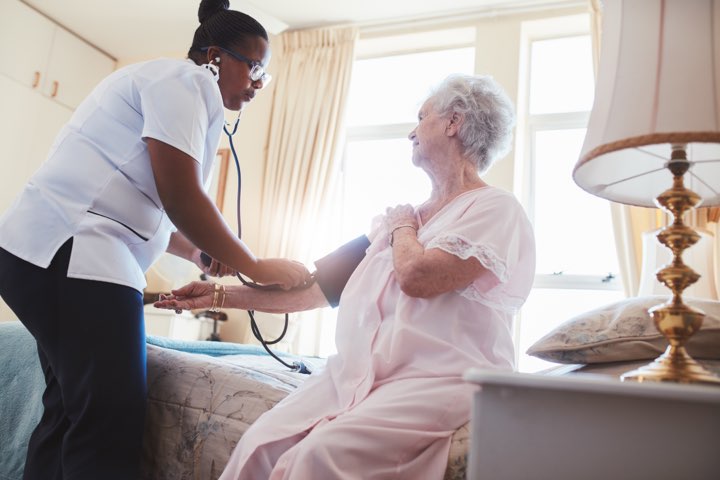 What do home health care services include?
In general, the goal of home health care is to assist you or your loved ones with activities related to daily living, rehabilitation or companionship. Home health care helps you:
Assist in the personal care of the patient including:
Oral Hygiene
Full or partial bathing activities
Toileting activities including the use of the urinal, bedpan, or commode
Personal grooming activities including shaving, shampoos, skin care and perineal care
Dressing activities
Performs basic patient care skills including:
Passive and/or active range of motion exercise
Transferring
Turning and positioning patients
Taking and recording vital signs
Providing ostomy care including changing of the apparatus as instructed by the Nursing Supervisor
Provides daily indwelling catheter care as instructed by the Nursing Supervisor
Measure patient's weight
Measure intake and output as directed by Nursing Supervisor
Performs fingerstick and glucometer readings and reports to the Nursing Supervisor
Performs nonsterile dressing changes as instructed by the Nursing Supervisor
Cleans equipment used by patient
Keeps daily records of patient activities and observations
Submits weekly records to Director of Nursing and appropriate personnel on patient's condition
Provides household services in order to maintain a safe, clean environment including:
Making and changing the patient's bed
Dusting and vacuuming the rooms used by the patient
Dishwashing the patient's tableware and utensils
Tidying and damp mopping the kitchen and bathroom
Disposing of the garbage daily and as needed
Tidying the patient's bedroom
Shopping and errands for the client
Personal laundry for client
Prepares and assists with the dietary requirements of the patient including:
Preparation of the prescribed diet for the patient
Assist with the feeding when necessary
Provide between meal nourishment
Assist with menu planning and grocery shopping
Assists the patient in maintaining the daily activities and quality of lifestyle including:
Socializing with family and friends
Accompany client to medical appointments and social activities
Recognizes and utilizes opportunities for reinforcing health and quality of life for the patient

How is home health care paid?
Home health care services can be paid in a variety of ways, depending on you and your home health care provider. Home care services are usually paid directly by the person receiving care (private pay), or through long-term care insurance or Medicaid. Other funding sources may be:
Private pay
Long-term care insurance
Health insurance
Veterans benefits
Workers' compensation
Medicaid
Medicare
Benefits of receiving home health care through an agency:
They will schedule an appointment to speak with you regarding you or your loved ones needs and health.
If you are paying through insurance, the agency should submit all documents for you to be reimbursed.
Some agencies will provide other services free of charge for family members. At A Caring Hand Services, Inc. a Licensed Clinical Social Worker is on staff, who will make home visits as needed at no additional charge.
Home health aides go through a rigorous screening process before being hired.
Home health aides can be replaced if your current caregiver requests for time off.
There should always be someone on call incase of an emergency.